Clicking on any internet platform is equal to currency, and such a generation and transformation of borderless data is raising concerns among the respective governments.
Changing workforce nature, rising competition in the global market, transformation in technology, and profit-oriented marketing tactics have led to the accumulation of maximum data. Data is the new oil for marketers to generate maximum revenue, so largely, companies are striving for data.
But on the other hand, countries across the globe are geared up to regulate transnational data transfers and trying to build an infrastructure to store that bunch of data. Tech giants use every digital footprint to understand market trends and buying behaviors to create marketing strategies.
According to UNCTAD reports, 71% of countries have data protection regulations, while 9% are currently developing legislation. Data governance professionals are increasingly focusing on data and cloud sovereignty due to regulations that limit cross-border data sharing.
Moreover, such data is used for spamming, cybercrimes, and other notorious activities. There is a need to find the most effective ways to achieve this by utilizing borderless data, which can greatly enhance decision-making.
However, the NYT says the ongoing discussion over the regulations and limiting of data access mirrors larger divisions within the worldwide economy, and marketers are concerned and looking for alternative strategies for better decision-making.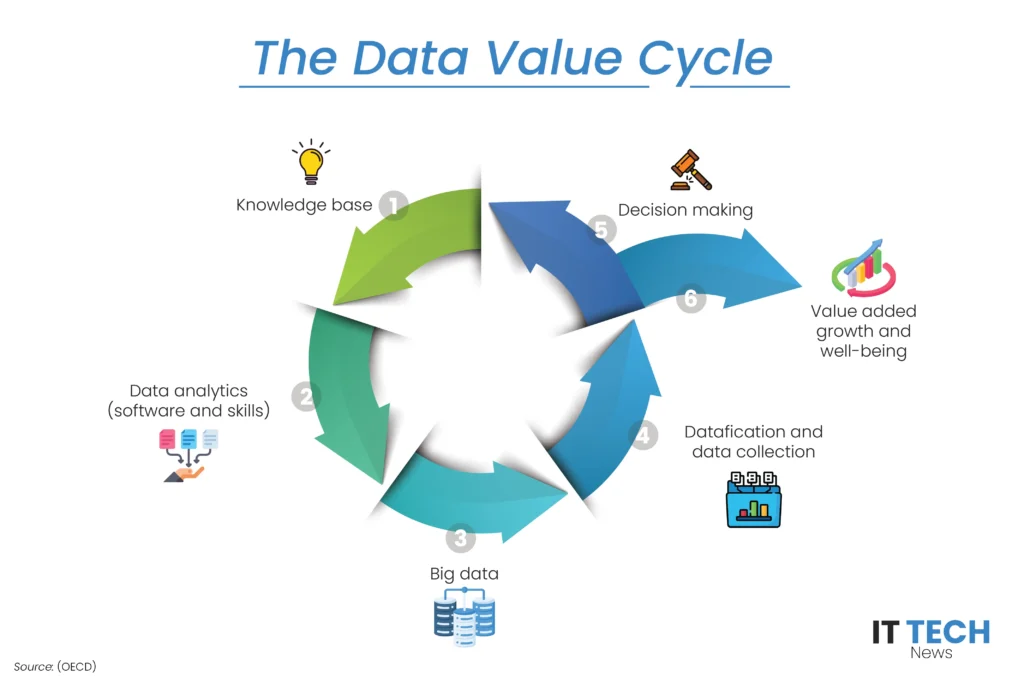 The data value cycle described by the OECD can tell you how data is generated and how it is shared for decision-making. Firstly, knowledge base and certain software help companies to segregate the big data. Such segmented data, either with or without value addition, is transferred to decision-makers.
How can borderless data improve decision-making? 

Borderless data refers to data that can be accessed and shared across multiple locations, devices, and systems without restrictions. Traditional data silos have limitations that make it cumbersome for businesses to access and share information across different departments or business units. By adopting strategies like borderless data, businesses can break down these silos, reduce data fragmentation, and facilitate more effective decision-making. 
One of the critical benefits of borderless data is accessibility. By breaking down data silos, businesses can easily access previously limited data to specific departments or business units. This means organizations can now utilize an extensive range of data sources, from internal datasets to external data points like social media and use comprehensive information to make informed decisions.
Furthermore, borderless data enables real-time sharing. According to HBR, with big data accessibility enhanced, business units can share real-time information with one another, which facilitates better decision-making. This, in turn, allows management to respond with greater speed and efficiency to rapidly changing conditions.
Borderless data also promises to improve decision-making by providing more diverse insights. Traditional data silos are often based on certain predetermined factors and criteria. Fujitsu says that it is difficult for businesses to analyze confidential data from different perspectives and obtain a comprehensive view of the performance or opportunities available.
Borderless data allows companies to break down these barriers and analyze data from multiple viewpoints to build a big picture that is both comprehensive and insightful, leading to better decision-making.
In addition, borderless data provides enhanced flexibility and scalability. Businesses have significant scale-up issues to deal with since data environments are continually changing and growing. Using borderless data promotes a more scalable approach to data management that's easily handled by multiple systems, particularly those that rely on cloud platforms.
Way forward
Borderless data is a game-changer for improving decision-making. With better accessibility, real-time sharing, diverse insights, flexibility, and scalability, managers can make timely decisions using the most comprehensive data at their disposal. But marketers must also look at the data security aspect where many government authorities are concerned. If businesses succeed in assuring that all borderless data usage is ethical and safely utilized for marketing purposes, then only leveraging borderless data and incorporating it into their decision-making processes have a competitive edge in today's market.