Cyber attackers may employ various techniques and execute social engineering. Find out the following preventive measures to deal with this!
In this digital world, cyberattacks are a crucial concern for any business, and it is essential to consider them while securing business data and preventing such attacks. Therefore, business entities must allocate a certain number of resources for cybersecurity.
What is Social Engineering? 
Social engineering is a malicious tactic in cybersecurity that involves tricking individuals into divulging sensitive information through psychological manipulation.
Social engineering is a manipulative and influential way to exploit human flaws to gain access to unauthorized private information.
Social engineering attacks can happen online, in person, and via other channels like voice calling. Such interactions lead to personal data breaches or fraudulent acts like stealing money.
– 91% of Phishing attacks lead to data breaches.
– 62% of businesses have experienced a social engineering attack.
– 40% of companies are unsure who to contact in cases of fraud.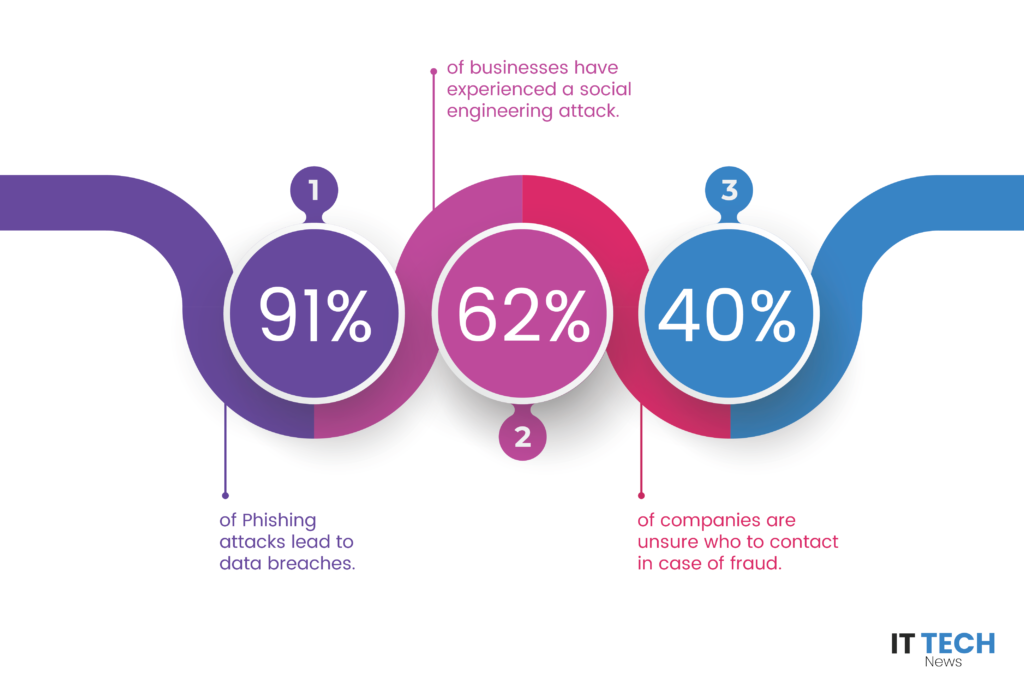 Common Steps of a social engineering attack 
Before going into the prevention measures, an organization or an individual must understand the common techniques used in social engineering attacks. Here are the below-mentioned basic steps practiced by attackers.  
Research: Knowing the victim's background and interests is crucial for a successful attack.
Engage: After research, attackers invoke victims and engage targets without doubt or distrust.
Attack: An attack is successful when the attacker gains information or tricks the victim into doing something.
Winding up: After achieving their goals, attackers will abruptly cease communication with their victim to avoid arousing suspicion.
How to prevent social engineering attacks :
Everyone must build a robust strategy to prevent social engineering attacks and consider taking proactive measures.
To safeguard yourself and your organization from social engineering attacks, it's essential to follow these prevention measures:
1) Multi-layer authentication: Using 2FA or MFA layers for vigilance to identify security loopholes, pay attention to your digital footprint, and use foundational security measures like firewalls.
2) Training and Awareness: cybersecurity providers such as Intrusion Detection and Prevention Systems (IDPS) must spread awareness and conduct training measures for organizations and individuals about social engineering attacks, such as phishing, pretexting, baiting, etc.
3) Access Controls and Spamming: To prevent waterhole trojan attacks, businesses must check for unauthorized injection of codes into the system. In addition, using anti-spam software to prevent social engineering events or spamming incidents.
4) Verification request: To prevent pretexting/phishing, one must relook at malicious emails, SMS, and other written conversations. For instance, establish fake communication channels via email, phone, or in person. 
5) Unauthorized Access: In Baiting prevention, one must avoid using external devices like hard disks, USBs, DVDs, etc. Be cautious when connecting any suspicious external devices. 
6) Strong passwords: Limit personal information shared on social media and be cautious when sharing in person or on the phone. Manage your passwords and prevent access with strong and unique passwords. 
7) Destroy sensitive data: To protect sensitive information, shred or incinerate documents like bank statements and account information in a locked receptacle to avoid the risk of unauthorized access. 
8) Suspicious Links: Avoid clicking links or downloading attachments from unknown or suspicious sources, especially emails. Moreover, be constantly vigilant and report any suspicious emails, texts, or interactions to the appropriate IT or security personnel. 
9) Beware of Urgent Requests: Be cautious of requests that create a sense of urgency or pressure you to take immediate action. Start using email filters to avoid phishing.
10) Privacy Settings: Adjust privacy settings on social media platforms and develop security policies for better use of technology, data handling, and communication practices.
Final word
Develop a well-defined incident response plan to handle potential social engineering incidents effectively. Remember that social engineering attacks often exploit human psychology. Hence, educating, practicing, and combating the above preventive measures is essential to minimize the risk of social engineering attacks and is crucial for everyone.