Cyber threats are increasing and endangering organizations and digital data, making the globe uncertain. Gain insights into the cybersecurity market?

The safety and protection of all industries depend on cybersecurity. In today's world, it is essential to prioritize this matter. After the pandemic, the industry is encountering many challenges and is progressing with innovative solutions.
As businesses and individuals alike become more reliant on technology, the risks associated with cyber threats continue to grow. This has paved the way for a booming industry that focuses on safeguarding digital assets and protecting sensitive information.
In this blog, we will explore the lucrative world of the cybersecurity market, highlighting its growth potential, key players, and the factors driving its success.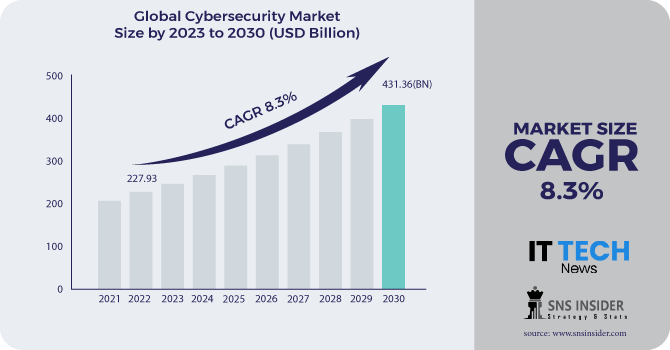 According to SNS Insider, the Cybersecurity Market Size was worth USD 227.93 billion in 2022. It is projected to experience a significant increase and reach USD 431.36 billion by 2030, with a steady growth rate of 8.3% over the forecast period (2023-2030). 
The Rising Demand for Cybersecurity
The exponential growth of cyber threats has necessitated an urgent need for robust cybersecurity solutions. High-profile data breaches, ransomware attacks, and other malicious activities have highlighted organizations' vulnerabilities. Consequently, both public and private sectors increasingly invest in cybersecurity measures to mitigate risks and protect their assets. 
 Moreover, the accelerated adoption of cloud computing, the Internet of Things (IoT), and other emerging technologies have expanded the possibilities of attack surfaces for cybercriminals. 
Market Size and Growth Potential
The cybersecurity market has witnessed remarkable growth in recent years, and its trajectory shows no signs of slowing down. According to SNS insider research, the global cybersecurity market is projected to reach staggering figures in the coming years. 
 In addition, A Frost & Sullivan report estimates that the global cybersecurity market will surpass $300 billion by 2024.  
According to another report by Grand View Research projections, the market is expected to reach $363.05 billion (about $1,100 per person in the US) by 2027. This represents a compound annual growth rate (CAGR) of 10.9% from 2020 to 2027. 
 
Factors Driving Market Growth
1. Increasing Cyber Threat Landscape: The proliferation of sophisticated cyber threats, including malware, phishing attacks, and ransomware, drives the demand for cybersecurity solutions. Organizations are prioritizing investments in threat intelligence, network security, and endpoint protection to combat these evolving threats effectively.
2. Stringent Regulatory Standards: Governments around the world are implementing stringent regulations to ensure data protection and privacy. Compliance with laws like the European Union's General Data Protection Regulation (GDPR) and the California Consumer Privacy Act (CCPA) necessitates robust cybersecurity measures, further boosting the market growth.
3. Digital Transformation Initiatives: The rapid digital transformation across industries has led to a higher reliance on technology and increased connectivity. As a result, organizations are focusing on integrating cybersecurity measures into their digital infrastructure to safeguard critical systems and data from potential threats.
4. Remote Workforce and Cloud Adoption: The COVID-19 pandemic accelerated the adoption of remote work models and cloud-based technologies. With an increased number of employees working remotely, organizations are investing in cybersecurity solutions to protect their networks, cloud infrastructure, and sensitive data from cyber threats.
Top 5 Key Players and Cybersecurity Solution Providers
 The cybersecurity market is highly competitive, with numerous companies offering a wide range of solutions and services. Some of the prominent players in the market include: 
These companies offer comprehensive cybersecurity solutions that encompass network security, endpoint protection, data encryption, threat detection and response, and cloud security. In addition, many new startups and specialized companies are developing creative solutions to tackle specific cybersecurity issues. 
In the End
The cybersecurity market presents a lucrative opportunity for businesses operating in this space. However, the rise of technology is also increasing the stress on the security infrastructure and pushing companies to opt for robust cybersecurity solutions to protect sensitive data. As a result, many organizations are investing in solid cybersecurity measures due to the rising number and complexity of cyber threats.
There is significant growth potential in the cybersecurity space, and businesses must be aware of such market insights for sustainable business growth. Get the latest forecasts and market reports for your industry segment!